Recruiting Summary: Recruiting
Take me to the Recruiting Summary section of HRMS.

---
---
You can create and modify the list of delegates who will be notified when the selected applicant has been approved in the Recruiting Summary: Recruiting section. You can access this page by clicking the Recruiting arrow on the navigation menu.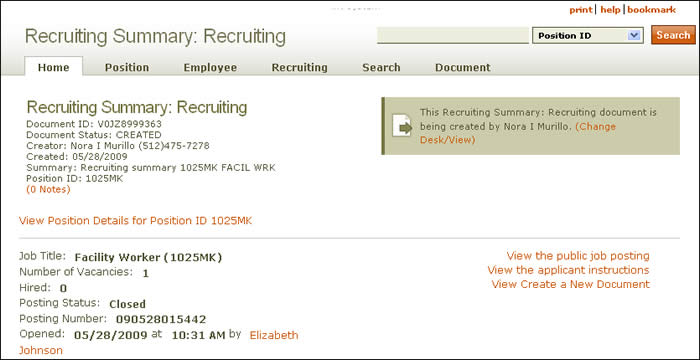 Document Summary information and a link that enables you to change your desk/view appear just below the page header. Beneath the summary is a link to the corresponding View Position Details page.
To view a description of the job, the public job posting, or applicant instructions, click the corresponding link. Specifics related to the recruiting effort, including number of vacancies and posting status, are also displayed.
---
The Recruiting Summary: Recruiting section is divided into the following subsections:
---
Click here to return to the Recruiting Summary Help start page.
---