Recruiting Summary: Communications
Take me to the Recruiting Summary section of HRMS.

---
---
View information about a position's applicants in the Recruiting Summary: Communications section. You can access this page by selecting the Communications arrow on the navigation menu.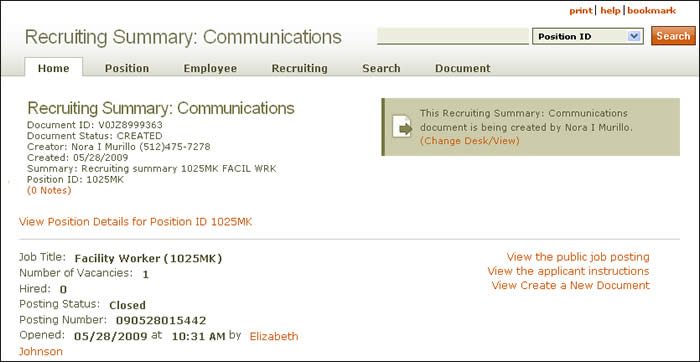 Document Summary information and a link that enables you to change your desk/view appear just below the page header. Beneath the summary is a link to the corresponding View Position Details page. To view a description of the job, the public job posting, or applicant instructions, click the corresponding link. Specifics related to the recruiting effort, including number of vacancies and posting status, are also displayed.
---
Applicant List
A sample of the Recruiting Summary Applicant List is provided below.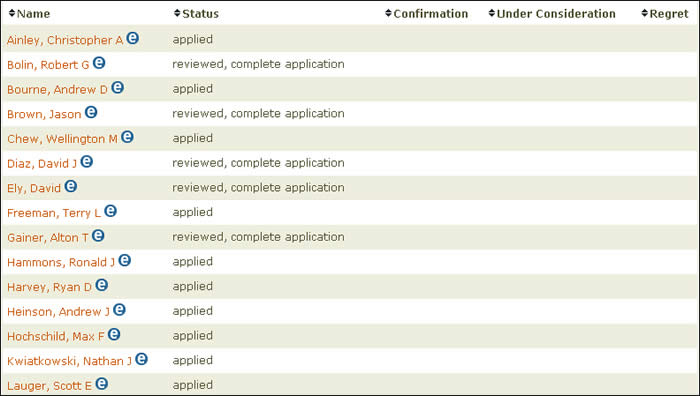 The Applicant List provides the following information for all applicants:
Name – The applicant's name links to a pop-up window that displays the individual's Applicant Status, Personal Information, Education, etc. The icon () indicates that the applicant has e-mail on file; see the Navigation: Icon section for other icons used in the Recruiting Summary section and their explanations.
Status – Provides a brief summary of the applicant's current status:

applied
reviewed, incomplete application
reviewed, complete application
reviewed, does not meet minimum qualification
reviewed, does not meet requirements, removed from pool
reviewed, non-competitive
reviewed, competitive
interviewed
interviewed, not selected for hire
declined offer or withdrew application
special consideration applicant was hired
hired

Confirmation – Confirms that the application has been received and that the applicant will be advised of his or her status during the application process.
Under Consideration – Notes that the applicant is being considered for the position.
Regret – Indicates that the candidate was not selected to fill the position.
Information is displayed in descending order, beginning with the most recent. Use the up/down arrows

to reverse the order of any column.
When you have completed the Communications page, click the Hire arrow on the navigation bar.
---
Click here to return to the Recruiting Summary Help start page.
---