Recruit and Fill a Position: Start

Take me to the Recruit and Fill a Position section of HRMS.

---
Help sections available for the Recruit and Fill a Position process:
Start | General | Salary/Funding | Purpose/Functions | Qualifications | Working Conditions | Recruiting | Document Review
---
Use the Recruit and Fill a Position page to recruit for a position and to initiate routing and approval.
NOTE: There can be up to 90 days' overlap of the current incumbent's end date and recruiting efforts to fill the vacated position.
You can access this page from the View Position Details page by entering a position ID and view date and by clicking Go. On the expanded View Position Details page, click the Recruit link, as shown below:
The initial Recruit and Fill Position page appears.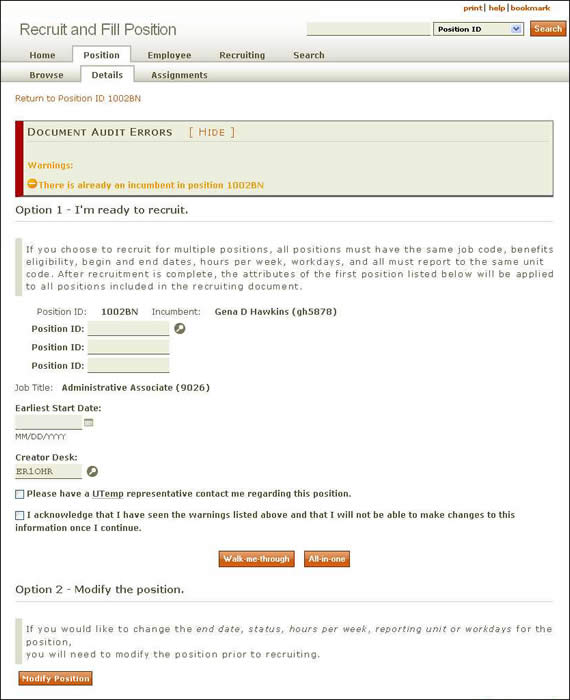 If you are ready to recruit, complete Option 1.
You can recruit for up to four positions as long as they all have the same job code, benefits eligibility, begin and end dates, hours per week, work days , and reporting unit.
If the position has a current incumbent, HRMS will provide a warning: There is already an incumbent in position. . . To proceed, you must check the box near the bottom of the page acknowledging that you have seen the warning. If there is no current incumbent, HRMS identifies the position as Vacant.
Provide the earliest start date, using the calendar lookup as necessary.
NOTE: This field cannot be updated once you select Walk-me-through or All-in-one. Be certain this information is correct before moving off the Recruit and Fill a Position start page.
Creator Desk refers to the authorization (desk) assigned to the user who is recruiting for the position. You need to select the appropriate creator desk for the document at the time of document creation.  This desk serves two functions.  First, any user with this desk authorization can make updates to the document while it is in created status and may approve it to route forward.  Second, this desk in combination with the owning unit code and account(s) assigned to the position will determine routing for the document.
NOTE: The field will pre-populate and may need to be changed.  Click the lookup icon to select a different creator desk.
If you anticipate needing a UTemp during the recruitment process, check the box and someone from that office will contact you.
Click either Walk-me-through or All-in-one.

The Walk-me-through option takes you through the process section by section.
The All-in-one option presents all steps in the Recruit and Fill process on a single scrolling page.

You will be directed to the Recruit and Fill a Position: General section.
---
Use Option 2 to modify the position before recruiting.
The following attributes can be changed before you recruit:
Click Modify Position to go to the HRMS Modify Position section.
---