Modify a Position: Leave Without Pay

Faculty
Help sections available for the Modify a Faculty Position process:
Start | General | Incumbent | Leave Without Pay | Budgetary Funding | Funding | Document Review
---
The Modify a Position: Leave Without Pay section enables you to assign leave without pay (LWOP) for the faculty member.
You can access this section from the initial Modify a Position: Incumbent section.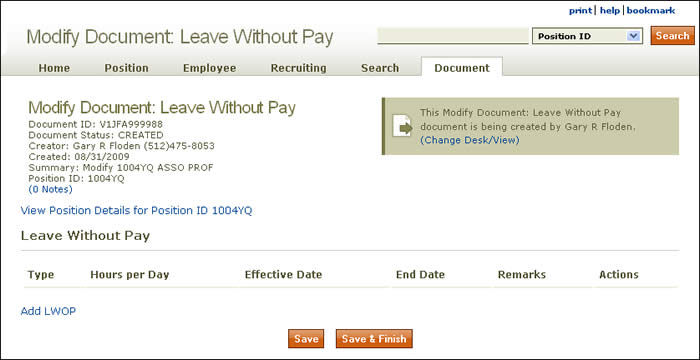 Document summary information and a link that enables you to change your desk/view appear just below the page header. To review position attributes, click the View Position Details link for the position ID displayed.
---
The Modify a Position: Leave Without Pay section comprises a table with information arranged according to the following headings:
Type – Lists the type(s) of LWOP the faculty member has qualified for. (Click here for more information.)
Hours per Day – Number of hours of LWOP taken in a single day.
Effective Date – Date that the LWOP goes into effect. Use the calendar lookup as needed.
End Date – Date when LWOP ends. Use the calendar lookup as needed.
Remarks – Text box where related notes can be added.
Actions – Click the [undo] link to delete the corresponding line of information.
Use the up/down arrows (

) to reverse the order of the table according to the column selected.
Click the Add LWOP link to add new funding information; a green star icon (

) appears to identify the new entry.
Click [undo] to remove a line.
Buttons located at the bottom of the section allow you to take these actions:
---
Click here to return to the Modify a Position start page.