Assign Work-Study: Incumbent

Work-Study, Non-Pooled Student
Help sections available for the Assign Work-Study process for non-pooled students:
Start | General | Incumbent | Funding | Document Review
---
The Modify Document: Incumbent section enables you to modify incumbent-specific work-study information for a non-pooled student position. You can access this section by clicking Save & Finish on the Assign Work-Study: General page or by clicking the Incumbent arrow on the Navigation Menu.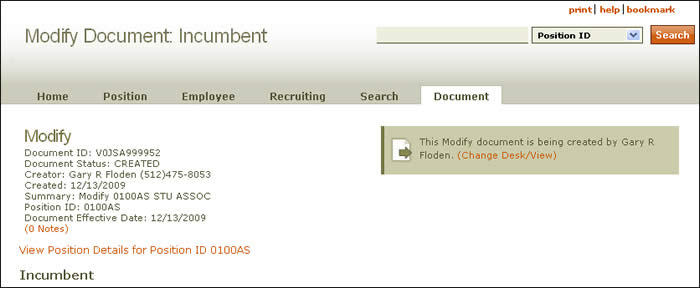 Document summary information and a link that enables you to change your desk/view appear just below the page header. To review position attributes, click the View Position Details link for the position ID displayed.
---
The Modify a Position: Incumbent section is divided as follows:
General Information

HRMS will indicate if an I-9 is required for the incumbent.

Click the link to view the Incumbent History.

Incumbent (EID) – The incumbent's name and EID are displayed. Click the EID to view the incumbent's Employee Profile.
Assignment Start Date – Date the incumbent was first assigned to the position.
Assignment End Date – Date on which the assignment terminates, if applicable.
Hours Per Week – Total work hours required each week for a position (see Work week). Percent time, which equals the percentage of an assignment's total hours in relation to a 40-hour work week, is also shown.
Work-Study Contact EID – EID of work-study liaison.
Concurrent Assignments – Any assignments the incumbent holds in more than one position within one or more departments is listed. Click the position ID to view the corresponding View Position Details page; click More... to view additional concurrent assignment information, if applicable.

Classification – The incumbent's current undergraduate or graduate academic level.

Compensation

Pay Range Information for Job Code – The salary range as determined by the UT Official Pay Plan is displayed. (Click here for more information.)
Pay Type – The rate by which the incumbent's salary is paid..
Hourly Rate – Enter the hourly rate of pay.

Work-Study

Work-Study Award Limit – The maximum work-study wages awarded to the student.
HAWS Job ID – The identification number of the position as listed in the the Hire a Work-Study job bank.
Employment of Close Relatives

Use the text box to describe the any familial relationships between the incumbent and other employees that could influence job duties, transfer or promotion, salary, or other employment considerations. (Click here for more information.)
Buttons located at the bottom of the section allow you to take these actions:
Save saves your work and identifies errors on the page.
Save & Finish saves your current work and directs you to the Assign Work-Study: Funding section.
---
Click here to return to the Assign Work-Study: Start Help page.